High performance, highly efficient valves for controlling gas flows
A disruptive pneumatic proportional valve technology has been developed that replaces traditional solenoid actuators with piezoelectric actuators. The valves offer two order of magnitude reductions in power consumption, making them ideal for portable applications. They match the flow capacity of most miniature pneumatic valves. They offer highly linear control regardless of operating pressure. They are the fastest of any available pneumatic valves.
Technology No. 2019-320-2022-120

1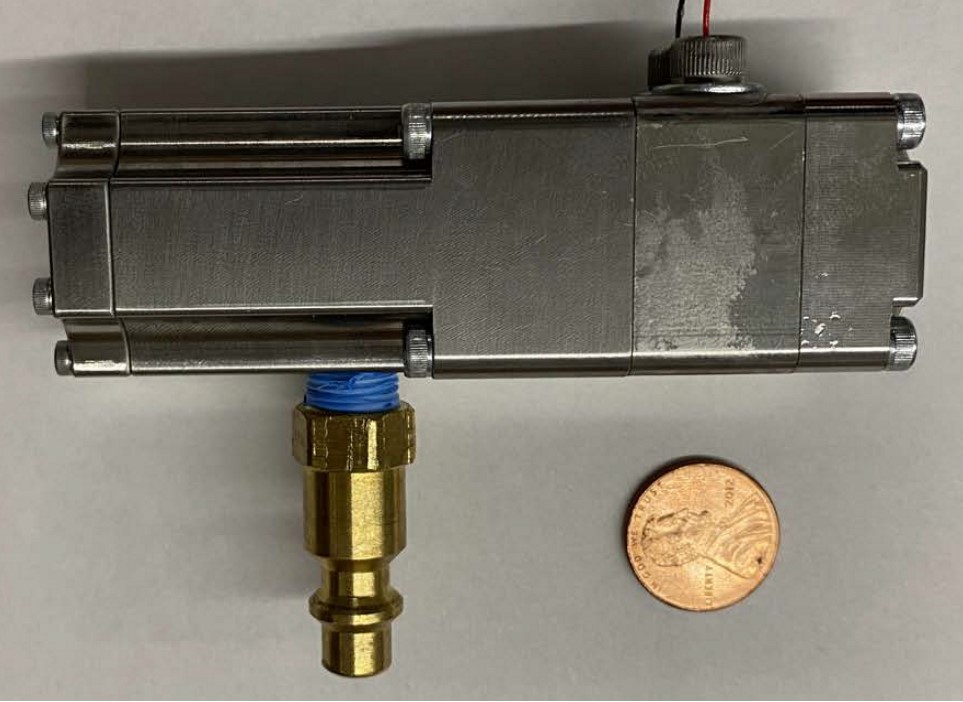 2
IP Status:
Provisional Patent Application Filed. Related to US Patent #10,330,212; Continuation Patent Application Filed;
Applications
Mass flow controllers
Portable medical ventilators
Aerospace control valves
Soft robotics
Remote field applications
Service in strong magnetic fields
Generic control valves
Technology Overview
Piezoelectric actuators require near-zero power to hold them at any static position. In contrast, conventional solenoid actuators constantly consume power to hold them at non-equilibrium positions. Piezoelectric pneumatic valves are superior for portable applications, as batteries can be downsized. However, to date, piezoelectric pneumatic valves have gained little commercial acceptance due to low flow capacity, low pressure capacity, or both. The revolutionary UMN valves achieve flow and pressure capacities comparable to common miniature pneumatic valves by combining unique seal or orifice plates with piezoelectric stack actuators. Their control characteristics are superior to solenoid valves, making them ideal for high precision applications such as mass flow controllers.
Phase of Development
TRL: 4-5
Proof of concept prototype available.
Desired Partnerships
This technology is now available for:
License
Sponsored research
Co-development
Please contact our office to share your business' needs and learn more.
Researchers
Licensing Terms
MN-IP Try and Buy

Center for Compact and Efficient Fluid Power (CCEFP) Try and Buy – Available to CCEFP member companies
Try
Trial period is up to 12 months
Trial fee is $0; In place of Try fee, a business plan for the Try period is required
No US patent fees during Try period1

Buy
In place of a conversion fee, a post-Try period business plan is required2
First $1M cumulative sales are royalty-free
Sublicense freely
Royalty rate: 2% of Net Sales
Patent(s) expenses paid by licensee
Qualified startups: 5% of equity of startup is allocated to University at formation3
Transfer fee for transferring license to a third party - $25,000
Please contact us for detailed term sheet for a Try & Buy agreement as well as guidelines for Try1 and post-Try period2 business plans as well as qualified startups3
swap_vertical_circlelibrary_booksReferences (0)

swap_vertical_circlecloud_downloadSupporting documents (0)

Additional files may be available once you've completed the transaction for this product. If you've already done so, please log into your account and visit

My account / Downloads

section to view them.
Questions about this technology?