Fast 3-dimensional reciprocal space imaging with laboratory X-ray diffraction: RSLab
A software that adds fast 3D reciprocal space imaging capabilities to laboratory X-ray diffractometers with 2D detectors.
Technology No. 2021-290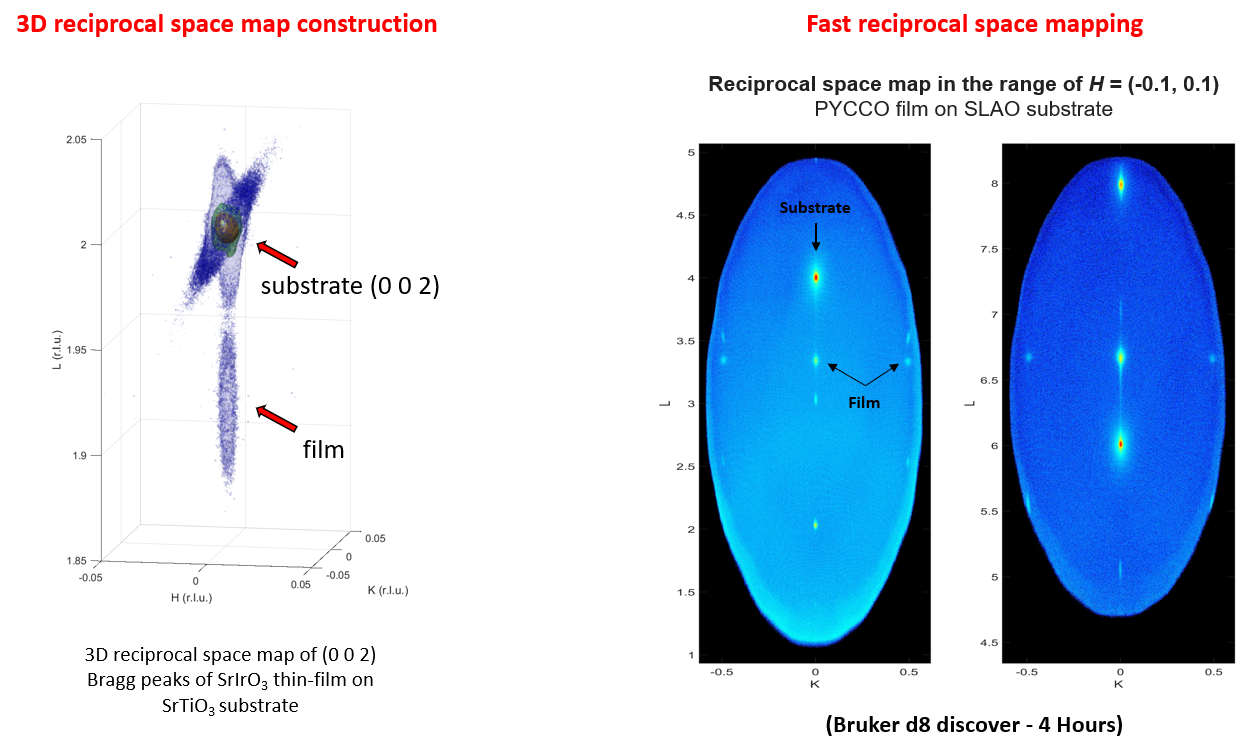 1
IP Status:
Copyrighted
Applications
Software for X-ray diffractometers
Overview
Researchers at the University of Minnesota have developed an innovative X-ray diffraction software that adds new analytical capabilities to commercial laboratory X-ray diffractometers equipped with 2-dimensional detectors. The software significantly enhances capabilities of compatible laboratory X-ray instruments, enabling research usually requiring access to synchrotron facilities. This software introduces the following new functions:
Construct detailed 3-dimensional reciprocal space maps from multiple detector images,
Perform wide reciprocal space mapping magnitudes faster than using traditional measurements
Computationally emulates traditional measurements after experiments.
The software is designed to work for a variety of instruments from different vendors, such as Bruker and Rigaku (instrument configurations and data may be needed to add support to users' instruments).
Key Features of RSLabTM
Drastically improves capabilities and efficiencies of laboratory X-ray diffractometers via software without requiring any changes to the hardware
Simplify experiment procedures
1D, 2D and 3D data analysis seamlessly integrated into a graphical user interface (GUI) program that run on laptop and desktop PC
Automatic and semi-automatic data analyses
Explore data and emulate scans after experiments
Software Specifications and System Requirements
Language: .p code (MATLAB code) or .exe windows executable. Matlab or Matlab runtime (MCR) is required to run RSLab.
Hardware: Software configuration needs to be compatible with Hardware. Please reach out to yug@umn.edu for technical questions on this.

Phase of Development

TRL: 7-8 Software will be available for download. Please inquire with Dr. Guichuan Yu (yug@umn.edu) for instrument compatibility and customization before download.

How to Download?

This technology is now available for licensing. Interested non-profit organizations may download and use the software free of charge by executing the license agreement provided on the right panel. Please contact us for commercial needs.

Researchers
swap_vertical_circlelibrary_booksReferences (0)

swap_vertical_circlecloud_downloadSupporting documents (0)

Additional files may be available once you've completed the transaction for this product. If you've already done so, please log into your account and visit

My account / Downloads

section to view them.
Questions about this technology?