Cold Hardy Itasca Grape Variety
Technology No. 20150077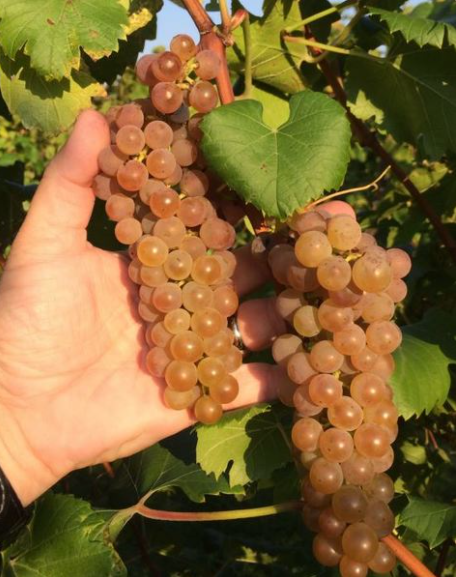 1
IP Status:
Issued Plant Patent (PLT);
Application #:
15/530,394
Cold Hardy Itasca Grape Variety for Making Dry White Wines
Itasca, the University of Minnesota's fifth cold-hardy wine grape, is the first cold-hardy variety with sufficiently low acidity to produce high quality, dry white wines. Itasca produces a clean, pleasant, light yellow to straw colored wine with a long finish. The wine features pear, quince, violet and melon aromas with subtle honey, mineral and floral notes, giving it great potential as a winemaker's grape. This new grape variety is the latest in a series of cold-hardy cultivars released by the university that led to the nascent wine industry in Minnesota and other northern climates around the world. Itasca has low acidity and high sugar levels, coupled with high resistance to common grape pests (e.g., downy and powdery mildew and the insect phylloxera). The grape originated from a cross of Frontenac gris and MN1234 and has shown cold hardiness as far north as the U.S. Department of Agriculture's Zone 4. Itasca is expected to be a preferred variety for both vineyard managers (due to reduced spray inputs and manageable growth habit) as well wine makers.
Propagating Itasca Grapevines for Sale
If you would like to become licensed to propagate Itasca grapevines for sale in the United States, then please complete a plant material variety license application. At this time, Itasca is not available for propagation or sale in Canada.
Please note, nurseries that are licensed by the University of Minnesota are only permitted to sell vines to 1) growers for the production of wine or juice for personal use only or 2) commercial purchasers for production of fruit to be used in the commercial manufacture of wine. Sales to commercial producers who produce fruit for the production of juice or other non-alcohol food products are prohibited.
Itasca Grapevines - More Information
Itasca Grapevine - Protection Information
US Plant Patent PP29,847, issued November 11, 2018
Canadian Plant Breeder's Rights pending
swap_vertical_circlelibrary_booksReferences (0)

swap_vertical_circlecloud_downloadSupporting documents (0)

Additional files may be available once you've completed the transaction for this product. If you've already done so, please log into your account and visit

My account / Downloads

section to view them.
Questions about this technology?