A positive pressure testing booth for sample collection
Design files for a portable testing booth that facilitates safe practice of sample collection procedures on patients with infectious pathogens.
Technology No. 2020-359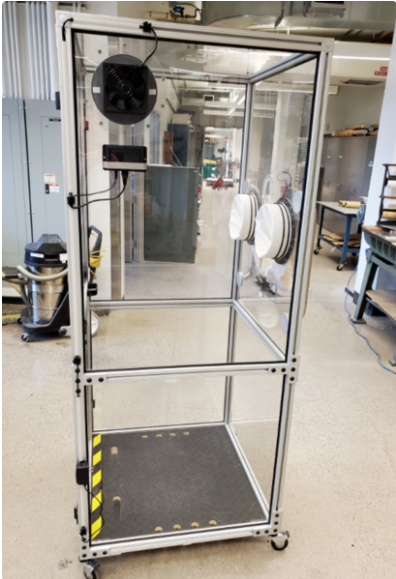 1
Applications
Diagnostic testing sites at hospitals and drive-up testing locations
Booths for workers (e.g. ticket takers) in areas of high air pollution.
Overview
Researchers at the University of Minnesota have designed a portable isolation system for facilitating safe practice of sample collection procedures on patients with infectious diseases such as COVID-19. This testing booth is made of polycarbonate, with glove ports, operated under positive pressure with a HEPA filter. The HEPA-filtered positive pressure environment keeps the healthcare worker safe from infectious aerosol droplets inside the booth while maintaining access to a patient outside. Fitted with glove ports, this booth allows healthcare workers to perform multiple sample collection procedures, while the exterior of the booth can be sanitized quickly using typical procedures between patients. In addition, the material and design of this booth allows for easy manufacturing and deployment, making it a realistic approach to rapidly build life-saving protective barrier enclosures for healthcare providers.
Key Benefits & Differentiators
Reduces exposure of infectious aerosols and droplets from patients to care providers
Facilitates safe practice of sample collection - nasal and oral swabs, nasal wash, etc.
Easy to manufacture with commercially available parts
Portable and easy deployment in outdoor locations
Increases throughput and may significantly reduce the usage of PPEs
Phase of Development
Booth tested in an operational environment. Several booths are in use at healthcare services for testing COVID-19 patients. Design files available for download.
Researchers
Christopher Hogan, PhD

Professor and Director of Graduate Studies, Mechanical Engineering
Ready for Licensing
The design files are now available for download at no cost upon execution of the license agreement (provided on the right column of this page). Please contact us to share your business' needs and your licensing interests in this technology.
swap_vertical_circlelibrary_booksReferences (0)

swap_vertical_circlecloud_downloadSupporting documents (0)

Additional files may be available once you've completed the transaction for this product. If you've already done so, please log into your account and visit

My account / Downloads

section to view them.
Questions about this technology?