A Gown for U Project - level 1 isolation gown for emergency use
Design files for a low cost, rapidly producible, one-size-fits-all level 1 isolation gown.
Technology No. 2020-357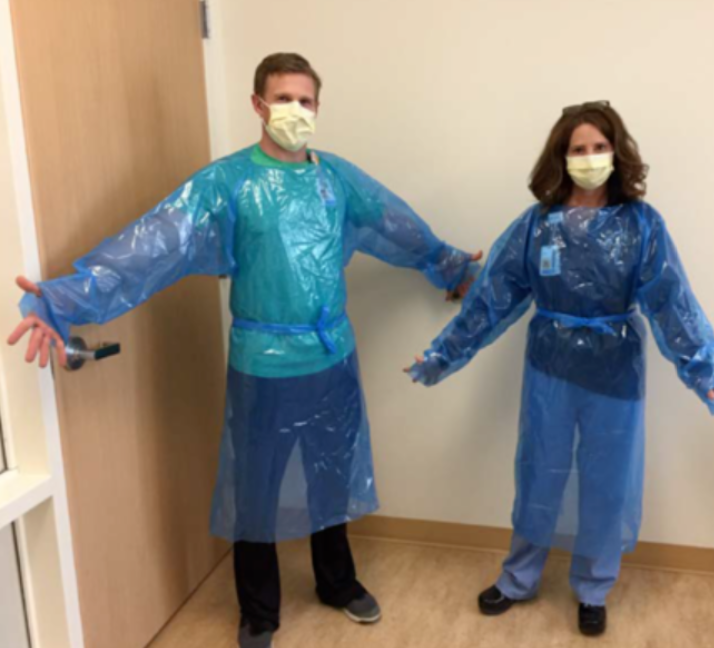 1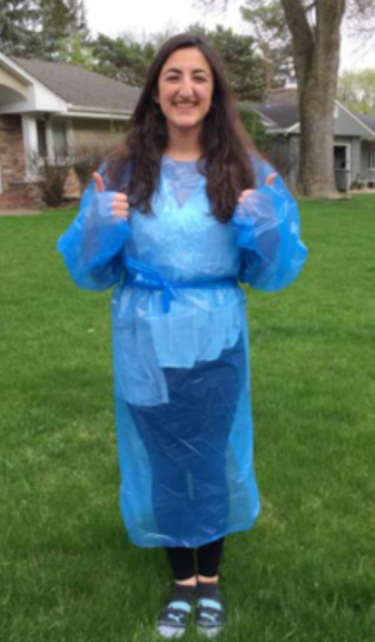 2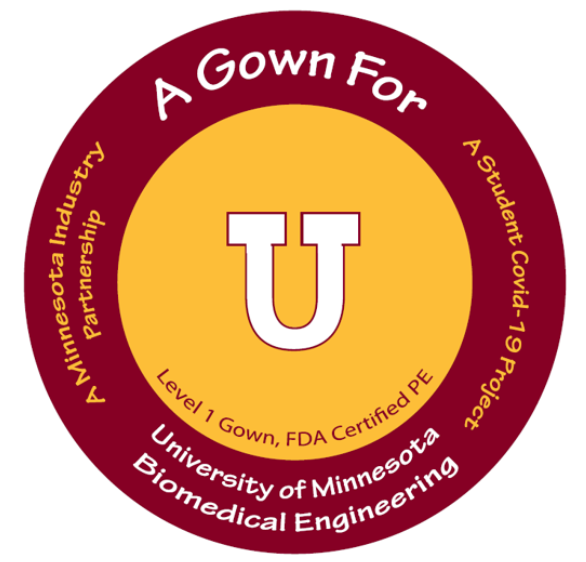 3
Applications
Level 1 medical gown: Minimal risk. To be used during basic care, standard isolation, cover gown for visitors, or in a standard medical unit
Overview
The ongoing pandemic of SARS-CoV-2 resulting in COVID-19 has created severe shortages of personal protective equipment (PPE) including medical gowns. Healthcare workers have dealt with this shortage by overusing gowns, and by creating DIY poncho-style gowns not made out of FDA approved materials - all of which pose safety issues.

Researchers at the University of Minnesota have designed a low cost, rapidly producible, and one-size-fits-all isolation gown using a commercially available, FDA certified 2 mil virgin polyethylene film. It is shown to be impervious to fluids and to provide a barrier to infectious waste as defined for a level 1 gown. While similar in overall configuration to commercially available disposable gowns, these gowns feature
stress relief cutouts,
diagonal perforation of the neck and shoulder section for rapid gown removal,
pulling tabs for easier bonding of the sleeves by the fabricator,
miniature binding tabs between ties and the body of the gown to keep them from entangling and possibly tearing, and
ergonomically designed thumb holes based on material choice, so as to prevent tearing, and fulfill the one-size-fits-all requirement.
Donning:
The gown is placed over the head, and arms are inserted into sleeves. Side straps allow for tying the gown in front or back to secure around the waist, and thumb holes allow for drawing the gown sleeves into disposable hospital gloves, creating a seal between the glove and the gown. Gown covers the lower neck, anterior chest, abdomen, waist and lower extremities to about knee level. It is a one-size-fits all design.
Doffing:
The gown is removed by simply pulling it forward, tearing perforations from the neck to the back, thereby eliminating the need to pull the gown over the head to remove it.
Phase of Development
TRL: 8-9
Gown in production. Design files available for download.
Ready for Download
The design files are now available for download at no cost upon execution of the license agreement (provided on the right column of this page).
Co-Creators
Mylaney Bleick, Anna Karos, James J Kerber, Jacob Kotzenmacher, Peter Linden, John Liu, Sam Newell, Dan Nguyen, Jasmine Nguyen, Paul Novara, Taylor J Pawlicki, Malcolm Pithawalla, Logan Remington, Melissa Rhomberg, Nels W Shafer, Ilsa M Shobe, Bernice Young, Lindsey Strange, Elizabeth Bye, Linsey Griffin, Kevin Wang, Joyce Wahr.
Researchers:
Steven Saliterman, MD Adjunct Professor, Department of Biomedical Engineering
swap_vertical_circlelibrary_booksReferences (0)

swap_vertical_circlecloud_downloadSupporting documents (0)

Additional files may be available once you've completed the transaction for this product. If you've already done so, please log into your account and visit

My account / Downloads

section to view them.
Questions about this technology?